Description
Learn English Online with School of Language International
To speak, read and write English better | Best reviewed online English classes in Singapore
Our exclusive English online lessons give you the flexibility to study English wherever and whenever you like!
You can now learn English
Learn at your own pace and from the comfort of your home or office

Learn with full support (Google review: 4.9/5 | Facebook review: 5/5) from your expert teachers and friendly customer service team

Enjoy more savings whichever package you choose
This video clip has a short online English lesson record. If you would like to book a FREE trial lesson, please click here.
Course Topics
You can improve English skills with the following online English courses:
English for Adults
Speaking & Pronunciation
General English: Speaking, Reading, Writing, Listening & Grammar
Business English
Presentation skills & public speaking
Refining writing skills
Interview preparation
Exam preparation: IELTS & TOEIC
Corporate training
English for Kids
Speaking & exam prep
Creative writing & oral test prep
Interview preparation
100% Online English Course Packages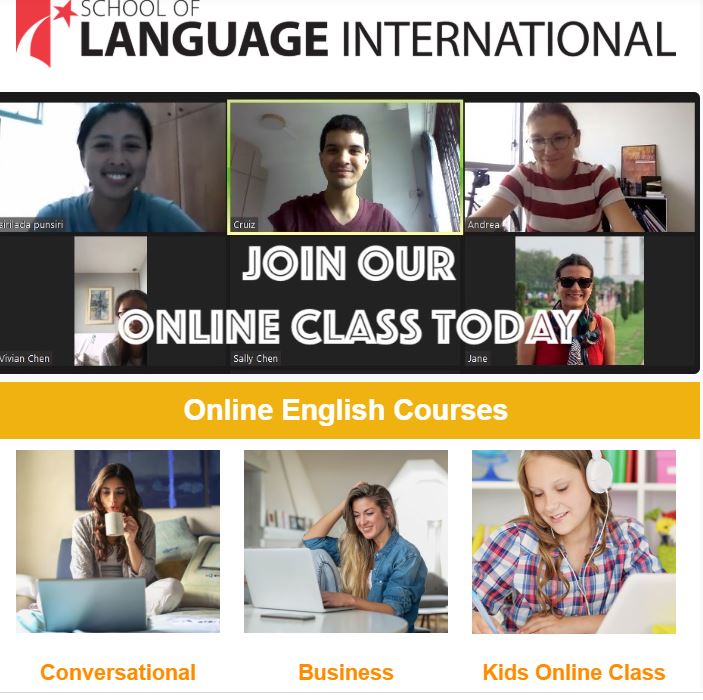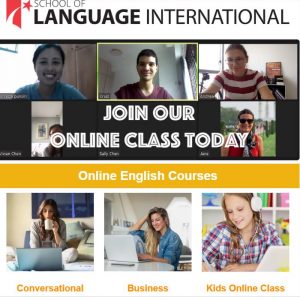 Course Name
Course Fee before Discount
Course Fee after Discount
Savings
1-1  or 1-2 Private Lessons online only 

10 hours

$990

$850

$140

20 hours

$1690

$1390

$210

30 hours

$2290

$2000

$290

 

Group Evening Lessons after 6pm: online only (2 hour per lesson | 24hrs)

General English
$700
$650

$50

Conversational English
$700
$650

$50

Business English
$700
$650

$50
For more information
Please call us at

91273617 or 62255988

or
Please email us at

courses@language-int.com

or
Please fill out
For Registration
Understand your learning needs:

1) Contact us at

91273617

courses@language-int.com

2) Free proficiency level test

3) Free learning needs analysis

Select your English lesson package:

1)    Lesson timing

2)    Preferred English expert teacher

3)    Starting date

Start your English lesson:

1)    Make payment easily with cash or internet banking:

Bank Name- UOB

Acct No.- 374-307-4260

2)    Start your English online lesson now!
FAQ
1.What is Flexi-Package for English lessons?
Many of our customers would like to enjoy both online and offline English lessons. This Flexi-package is the perfect choice for them. They can arrange the lessons with their teachers based on their work and travel schedule. With this package, you have the greatest flexibility and convenience.
2. How to learn English online?
We only offer 'live' English lessons!
You will enjoy online English lessons just like face-to-face English lessons, but from the comfort of your home, office or holiday resort. Our experienced English teacher will engage and teach you with shared screen, virtual whiteboard and teaching material, to ensure happy progress in your English communication skills.
Before your online lesson, we will send you a lesson invitation and teaching material through What'sapp or email.
During your online English lesson, you only need an electronic device (such as laptop, tablet or mobile phone) and access to the internet.
After your online lesson, you will receive your homework based on your English learning needs.
Easy and cool!
3. How to improve my English speaking through English online course?
Practice makes perfect!
We can help you improve your pronunciation and wording, make English a part of your daily life, and then like your second native tongue. Lots of practices and speaking activities in the online class.
You can also use the these 10 tips to practise and improve your English speaking skills after your online English lessons.
4. Do you have any promotion for online learning?
Yes, we do. Please call 91273617 or 62255988 for further assistance.
5. How can I book and start my lesson?
Please contact our admin staff or reply to the last email you received from us. In order to place your booking, we would need the following details:
Name –
Surname –
Date of birth –
Nationality –
Email address –
Starting date –
Starting lesson time (please choose from the following schedule) –
How many weeks? –
Would you like to take private lessons or group lessons?
Looking forward to meeting you online soon!
6. Which platform are you using for Online Mandarin classes?
We are using ZOOM for group online English classes. However for 1-1/ private/ customised English lessons, we are flexible and comfortable with any platforms.
7. Is it safe to use ZOOM for group online Mandarin classes?
we have put in place sufficient security measures to safeguard our customers' online learning environment. They are:
Created unique ID for each online class
Secured online classroom with password
Created a waiting room so the participants can only join the class if their display names have been screened and verified by the teacher
Only our teachers are allowed to share their screens to ensure the safety of the content shared
Classroom will be locked once the class begins
We are able to mute any participants and also disable their camera
We can end the online class for all participants should the need arise
Furthermore, all our teachers are adequately trained to use the available tools to reinforce those measures. Here is the link for you to know more about
Privacy & Security for Zoom Video Communications.