Description
Online or Face-to-face English Lessons for Kids and Young Learners
We meet a variety of English learning needs for kids and young learners. Students can choose small groups, one-to-one or online English classes. In particular, we hold leveled English classes, which target specific comprehension, as well as speaking skills, reading and writing strategies. Our experienced teachers teach everything from phonics and alphabets for our younger students, to English essay writing and literature for our older students.
The school's passionate English teachers encourage our students to discover the love of English learning. In addition, they will boost students' confidence in all key skill areas and direct them towards better grades at school.
Reasons to take Kids English lessons
Promote the love of English by fun reading, role-playing and presentations.
 Receive greater individual attention.
Build confidence while increasing comprehension and fluency.
Learn from experienced and qualified teachers.
Learn online or face-to-face.
Features of our Kids English lessons



More individual attention
In a class of just three to six students, students will benefit from more individual contact with their teacher. Online group classes are similar size. Alternatively, 1-1 English tuition classes are available. Furthermore students will receive even more guidance, attention and feedback which are all specific advantages of a Premium English class.
Flexible and personal
Fewer class members allow lessons to flow naturally. Students will feel an increased sense of participation and motivation. We can adapt the English course to cover the language areas and skills that students need to focus on.
Gain fluency quickly
The flexibility of our teachers plus a small class size means you will progress faster. There is a lot of practical engagement and individual focus which will speed up your fluency in the language.
Gain confidence
Students' confidence will grow because they have more opportunities to interact with classmates and the teacher in a meaning way. Furthermore we have also selected many award winning teaching materials, and we get students to take part in games and interactive activities to make their learning journey an enjoyable one.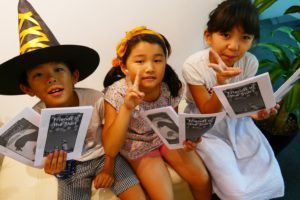 Free Sample Kids English Materials 
The kids levels range from level a to z. Here are some samples:
Level A:  I can skate
Level B:  I Pick Up
Level H: Brainstorm Bear
Level Z: Christmas carol part1
Why do we use leveled books for kids?
We improve our kids' English skills through lots of fun reading, sharing and writing exercises. Thus, we instill success in our classroom and beyond with engaging, appropriately designed leveled books at 29 reading levels.
Graduated levels of difficulty build students' confidence while increasing fluency. As a result, leveled books will support instruction in comprehension, vocabulary, close reading of texts, and more.
FAQ
1. Are there short courses available during school holidays?
Yes, we provide a number of short English courses to boost your child's English skills. Feel free to choose between 1-1, small groups, online or face-to-face English classes.
2.  What can I expect in the English class?
Our teachers will improve reading, writing, speaking and listening skills through interactive games and fun activities. Therefore your child will learn without losing interest. The class time is for one hour minimum, up to maximum of four hours.
3. Who are the teachers?
Our teachers are some of the most qualified, responsible and experienced educators that you and your child will interact with. They are familiar with a wide range of syllabuses, from both international schools and local schools.